I've just finished re-reading "What is Scenograhy?" by Pamela Howard. I read it a few years ago whilst training as part of the reading list and it's sat on my shelves gathering dust since. I thought now was an excellent time to revisit it.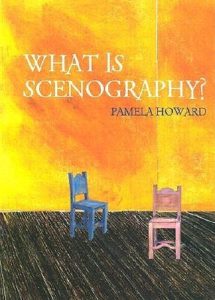 Similar to my critique of Katie Mitchell's "The Director's Craft" this too feels a bit like a beginner's guide to theatre design, more cunningly disguised as an elaborate series of essays, the key point to mention though (and Howard states as such) is that she is not a theatre designer. Howard is a scenographer.
What's wonderful about this book is the subtle drawing of lines in the sand that Howard uses to show differences between theatre design and scenography. I've heard it being argued as the same thing amongst colleagues and peers, or rather that scenography is what theatre designers do. Having re read, I'd now like to side with Howard.
The craft and practice of scenography is an evolution of theatre design, theatre design 2.0, a more holistic approach . Her arguments take scenography into a new realm of design, to that of visual storytelling and interpretation. A designer, it could be said, merely will solve the problems of and create solutions to the list of prerequisites presented by the piece.
A scenographer, as presented from this read, is effectively a visual translator and close collaborator to the director – it is design in a much more applied and comprehensive manner from a greater stand point and concept. They have a deep understanding of the text, usually heavily analysed and prepared (to the extent that they could step in as director if needed, and Howard mentions having trained in direction as part of her training). They also seem to have influential say in the shape of the piece via their creations.
It has made me consider the idea of scenography in relation to puppetry. There is a difference here therefore to being a puppet designer, one who designs the things to be animated and then a puppetry designer/scenographer, one who would look at the overall concept of puppetry as a storytelling element. (This warrants a separate article before I vere off tangent wildly)
Howard's book is a relatively easy read and highly accessible, punctuated with some rather exquisite drawings and diagrams from her own work. The 7 working chapters focus tightly on the elements that make up her practice and could be read as stand alone pieces with very little difficulty.
There is much to be gleaned from this book if, like me, you are in search of some inspiration and aspiring to develop your own practice. Read with a pad and paper by your side though, her ideas and tools are peppered randomly through the chapters and although explained well and thoroughly, if you were looking for them specifically in a focused turn-to-the-page-via-the-index-style-search you'd struggle.
Controversially, I can't necessarily say I would recommend this to theatre designers, unless those designers are open minded and willing to accept a differing opinion and view point (there may be a lot of cross over with what they already do but haven't considered it "scenographic" by Howard's terms). It's definitely a good read though to other theatre practitioners, particularly those who span several disciplines and class themselves as theatre makers. Similarly, Howard's opus would offer great insight into anyone looking to investigate visual storytelling or understanding the semiotics of putting together a visual narrative.